Get fully-owned solar plus a flexible credit worth up to $20,000
Granville's Year-End Sales Event is back. The sooner you buy, the more you'll save!
End your year on a bright note with a fantastic deal on your next home!
Qualifying homes in five communities in Fresno, Clovis, and Madera will get a fully-owned solar system that is grandfathered in with PG&E's NEM 2 rates, giving you exceptional solar savings that you can't get with most new or resale homes.
Plus, we'll throw in a flexible credit of up to $20,000 that can be used for closing costs, appliances, or purchasing a lower interest rate – whatever you like! And the sooner you act, the larger your credit will be. Here's how it works when you purchase your qualifying home:
Homes that are in contract by September 30, 2023 will get our largest flexible credit worth up to $20,000

Homes that are in contract by October 31, 2023 will get a flexible credit worth up to $15,000

Homes that are in contract after October 31 that can close on or before December 29, 2023, will get a flexible credit worth up to $10,000.
Don't miss out on Granville's best value of the year, saving thousands at closing and even more with years of solar savings. Get the deal you've been waiting for on the home you've been dreaming of and be moved in by the holidays!
*All new Granville homes are equipped with a photovoltaic system (solar) with a 20-25 year lease that buyers will assume if this incentive is not applied. Actual size and value of solar system based on size of home. Paid solar offer may not be combined with other offers. Buyer to verify export rates and monthly connection fees. Buyer must receive funding from Granville Home Loans to qualify. Flexible incentive amount determined by contract date. All homes must close by December 29, 2023 to qualify for incentive. Offer may be discontinued or changed at any time with no notice or obligation. For complete details and broker co-op information, please see a Granville Homes sales representative.
How will your owned solar array with NEM 2 rates equal greater energy savings?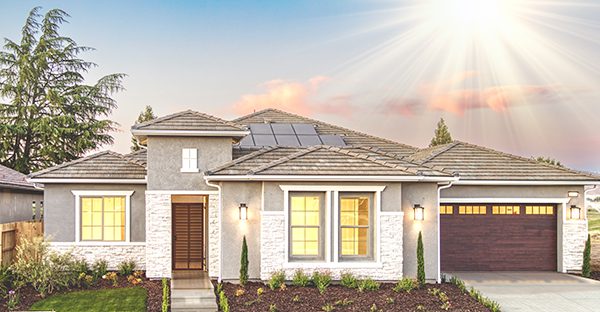 All solar systems that are powered on after April 15, 2023, will be subject to NEM 3 rates, which is a new system under which a lower rate for exported energy is paid to the solar owner. However,  when you purchase a new Granville home with solar, these homes will be locked in at NEM 2 solar rates, saving you even more!
For those who are unfamiliar, Net Energy Metering (NEM) relates to billing between utility companies and homeowners with solar. The most significant difference between NEM 2 and NEM 3 is the export rate. Customers who have locked in NEM 2 rates can sell back their excess energy for $0.35/kWh, versus $0.07/kWh for NEM 3 solar customers. Under the current rule changes, current NEM 2 customers will enjoy their current pay structure for 20 years, resulting in savings of tens of thousands of dollars over the life of your home.
Call (559) 445-9000 or email sales@gvhomes.com to learn more about Granville's Year-End Sales Event, including details about the fully-owned solar system.
Questions about our homes or communities?